Altea Information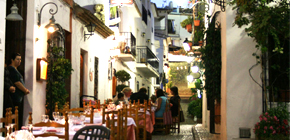 Altea: To visit Altea is to get immersed in one of the most charming towns of the Valencian Community.
From the Punta del Mascarat set in a bay, Altea has found a nook between the sea and the mountains, granting an almost symbolic image of the Costa Blanca.
With the blue and white dome of its Parochial Church, the municipality spreads down to the Mediterranean Sea.
Small and beautiful coves and beaches extend along a littoral riddled with the same captivating white charm held by the town itself.
Altea is divided by the N-332 road, with the beaches and the marina on one side, and the old and the new town on the other side of the motorway.
Nevertheless, this split doesn't interfere with the varied offer of things to do in Altea, with both sides of the town owning their own great set of advantages.
Even though it is only a short drive from Benidorm, both towns have very few similarities with each other.
Whereas Benidorm is all hustle and bustle, Altea is a quiet medieval town, with cobblestoned streets and beautiful white houses.
If you're going to visit Altea and you enjoy shopping, the Tuesday morning market in the new town is a must.
The old town also has a lively commercial activity, predominantly consisting of restaurants and bars offering typical dishes and delicacies, or shops offering local art and craft specialities.
Moreover, if you enjoy cultural tourism, do not hesitate to visit Altea's museum and the Casa de Cultura, a cultural centre with a library and art exhibitions.
Visit Altea and enjoy a unique experience in this singular town of the Valencian Community.
How to get here:
The A-7 motorway, exit 64, leads to Altea and the N-332 (Valencia-Alicante) main road crosses the population.
It has a railway station on the FGV, Alicante-Denia line.
There is also a bus service that communicates the municipality with the rest of the province.
The Altet airport (Alicante) is to 61 km away.